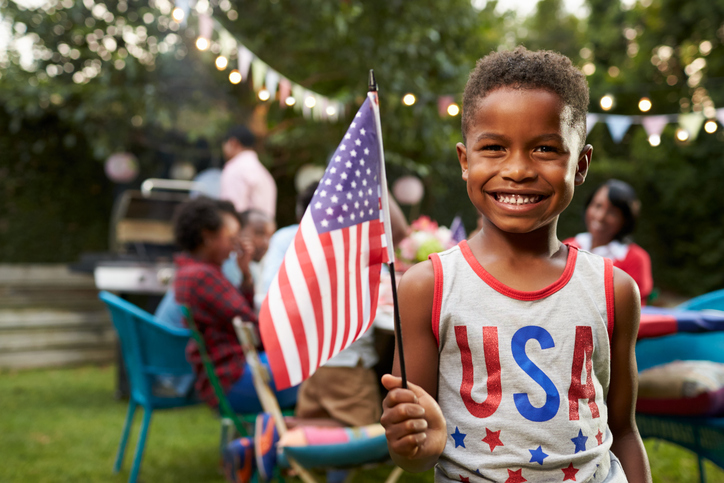 July fourth is a perfect time for a patriotic backyard celebration. Invite family and friends, create lasting memories, and make it kid-friendly with these fun and flavorful tips:
The décor:
Keep it simple
with red, white and blue streamers festooned from the fences – and dress up your picnic tables with plastic tablecloths, paper goods and cutlery in the same patriotic colors. Carry out the theme by hanging a flag and/or by placing small American flags strategically in the lawn around the yard.
Edible centerpieces
can be as simple as popping a bowl full of red, white and blue jelly beans on every table.
The food:
Make it kid-friendl
y with hot dogs and hamburgers. There's nothing more classically American than that – but appeal to adult tastes with a sideboard full of interesting toppings, like chili, salsa, or guacamole.
Add side dishes
that appeal to kids and adults alike; potato salad, cole slaw, chips, and baked beans. Or share the work by asking guests to bring their favorite side dish or dessert – and keep to the theme by heaping a white platter with fresh blueberries and slices of watermelon cut into star-shaped designs.
Make the focus of the dessert table
a plate of white iced cupcakes with a tiny flag in the center of each. Round it out with a selection of store-bought cookies and/or with guest contributions.
The entertainment:
For kid-friendly fun
while the adults are chatting, set up an all-American crafts table. Provide drawing paper and crayons along with a selection of red, white and blue construction paper, pipe cleaners, beads for stringing, scissors, white glue and patriotic stickers. (Adults can take turns manning the craft station to assist or settle any arguments.)
For kids seven or older,
charge them with putting on a play. Provide some costume pieces, like hats or wigs, and suggest they come up with their own script, using characters like George and Martha Washington, Betsy Ross, Ben Franklin and others to act out the events of the day – and be prepared to gather as an audience to watch their home-made entertainment.
Backyard fireworks are an option if legal in your town.
Or have the kids light sparklers with adult supervision, and/or bring out a large screen TV set and watch televised fireworks shows together.
Published with permission from RISMedia.